Employers best manage their risk with well-trained managers and timely, strategic advice and counsel. In today's legal and regulatory environment, however, claims still arise, requiring cost-effective representation regardless of the forum. The Pierce Atwood Employment Group provides across-the-board expertise and legal services pertaining to the employment relationship.
Our goal with each of our clients is to foster effective human resource practices; minimize risk; provide zealous advocacy; improve the legal and economic environment for employers and enhance our clients' own expertise through information and training. We provide monthly one-hour (free) and periodic longer (low-cost) seminars, available live and online, regular alerts, and a private extranet for our clients.
BTI Consulting Group, the leading provider of strategic research to the legal industry, named Pierce Atwood to the "Honor Roll" in Employment Litigation in the BTI Litigation Outlook 2019. 
Pierce Atwood is the exclusive Maine and New Hampshire member of the Employment Law Alliance, a global association of top employment and labor attorneys providing multi-state and multi-national companies access to the best labor and employment attorneys in every U.S. state and in over 135 countries around the world, far surpassing what any firm or other association can offer.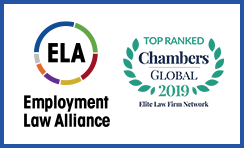 Employment law seminars are held regularly across our Portland, Boston, and Portsmouth offices
Areas of Expertise
Employment Discrimination & Leave Management
At the heart of today's employer-employee relationship is the management of legal risk associated with discrimination: protected class discrimination, harassment, whistleblower, retaliation, failure to accommodate, and related claims. We help clients with prevention strategies such as 1) training managers in areas such as principles of employment discrimination, accommodations, leave, performance management and investigations; 2) regular updates to management on new developments and trends; and 3) defense of claims in all administrative, state and federal forums. In addition, whether it's under the ADA, FMLA, state law leave requirements, or workers compensation laws, we help clients make decisions concerning their workforce that comply with today's legal and regulatory environment.
Representative Experience
Executive Compensation & Benefits
Pitfalls abound for employers seeking creative ways to compensate their executives, provide severance, and keep benefits affordable. We advise on compliance with section 409A deferred compensation compliance and help employers provide affordable benefits packages that maintain employee morale while complying with ERISA, COBRA, HIPAA, GINA, the Affordable Care Act, and changing state insurance regulations.
FLSA & State Wage/Hour Including Class Actions
As federal and state requirements for compensating employees fall farther and farther behind the economic realities of today's economy, we help clients remain in compliance. Our attorneys have considerable experience defending individual and class action claims arising under the FLSA and state analogs.
Government Relations for Employers
We are engaged with Maine's public and political leaders. Together with trade associations or on behalf of client groups or individual clients, we advocate at the Maine Legislature and state agencies for employers' public policy interests.
HR Compliance
There are many ways for employers to get tripped up today, whether by the complex regulatory environment, changes in the economy, or unexpected events. With the right platform, the human resources team is much better prepared to respond. Here's how we help our clients stay ahead of the curve:
Protection of Organizational Assets – We help employers with non-competition, non-solicitation, and confidentiality agreements; advice on maximizing trade secret protection; and enforcement of employers' rights.
Health and Safety – Whatever the intensity of OSHA's enforcement efforts, employers never want to lose sight of the benefits of a safe workforce. We advise on how to stay in compliance, and represent employers' interests in OSHA proceedings.
Recordkeeping – We help employers create the right records and keep what they should for as long as they should.
Social Networking and Privacy – The line between work life and private life seems to be getting less distinct with every passing day. We advise on how to find the right balance between employer and employee interests while complying with the National Labor Relations Act and federal and state privacy laws.
Affirmative Action Plans – For employers with federal contracts, timely compliance with OFCCP requirements is a must. We prepare and update affirmative action plans that help keep the OFCCP inspectors away.
Workplace Investigations
Employers often face situations that require them to conduct investigations in order to protect employees, assure legal compliance, or respond to complaints. Often with little time, and always with a need for accuracy, employers need to assess and then act. 
Particularly in situations involving an actual or perceived internal conflict of interest, where the perception of objectivity will be critical, or where fast and skilled action is needed, employers often engage Pierce Atwood's investigations team. Acting as an independent investigator – not an advocate – Pierce Atwood's attorneys create an investigation plan, interview witnesses, review evidence, reach conclusions where appropriate, and provide a report to the employer, in the employer's chosen format, enabling the client to take informed and appropriate action.  
We have substantial experience investigating sexual harassment claims, discrimination claims, wrongful discharge claims, supervisor or coworker bullying and other employee relations concerns, and many other workplace issues.  Our team can be especially valuable when a third party is needed, as many states have laws that permit such investigations to be done only by attorneys or licensed private investigators. 
Healthcare Labor & Employment
Chest Medicine Associates
Down East Community Hospital
Genesis Healthcare
H.D. Goodall Hospital
MaineGeneral Medical Center
MaineHealth
Martin's Point Health Care
MedEquity Capital, LLC
Mercy Hospital
New England Cancer Specialists
Northern Maine Medical Center
Penobscot Valley Hospital
Pierce Atwood's Employment Group has been Maine's leader in healthcare labor and employment for many years. We serve as outside counsel to many of Maine's hospitals, including the majority of those with collective bargaining units.
We help health care and other clients manage the entire range of issues and risks associated with the employment relationship, such as protected class discrimination, harassment, whistleblower, retaliation, failure to accommodate, leave management, wage-hour, defamation, confidentiality of patient and company information, hiring, drug testing, affirmative action plans, performance management, employee discipline and workforce reductions. We work with clients to develop prevention strategies, including in-house employment law training for managers and updates on developments. We defend claims in all administrative forums and in state and federal courts, including the Maine and New Hampshire Human Rights Commissions, the Massachusetts Commission Against Discrimination, and the EEOC.
For hospitals with unions, we provide representation in contract negotiations, arbitrations, unit determinations and other Board proceedings, as well as regular advice and counsel on contract administration and compliance. At the same time, we have helped our non-union clients stay union-free. We also work with a broad range of non-hospital providers in the industry, including home health agencies, long-term care facilities, physician practices, laboratory services, research institutions and insurers.
Representative Experience
Traditional Labor
Millinocket Regional Hospital
Sappi Fine Paper North America
Madison Paper Industries
Lincoln Paper & Tissue
Casella Waste Systems
Portland Pipeline
Traditional labor lawyers may be a dying breed, but not at Pierce Atwood. Our unionized clients rely on us for collective bargaining (both strategic advice and hands-on negotiating), unit determination proceedings, and defense of unfair labor practice charges.
Representative Experience
Website & Digital Accessibility
Our lawyers counsel clients on website and digital accessibility issues under the Americans with Disabilities Act (ADA), Twenty-First Century Communications and Video Accessibility Act (CVAA), and similar federal and state laws and regulations, and represent clients in the defense of related class actions. Our litigators have experience handling cases in the United States District Courts for the Eastern and Southern Districts of New York, where many of these federal cases are filed. For example, we have represented defendant companies in direct-to-consumer and retail industries in website accessibility lawsuits.
While the ADA requires that businesses and property owners generally open to the public (known as public accommodations) make their locations accessible for people with disabilities, the law was enacted in 1990, before conducting business and consumer transactions over the internet became commonplace. Since 1990, an ever-increasing number of products and services have been offered over the internet, and digital accessibility has become a concern for the platforms on which they are provided. Digital accessibility is the ability of a website, mobile application, or electronic document to be easily navigated and understood by a wide range of users, including those users who have visual, auditory, motor, or cognitive disabilities. As more aspects of our daily lives migrate to the internet, a growing number of plaintiffs have asserted that websites and applications are places of public accommodation under the meaning of the ADA, and court decisions and legislation concerning digital accessibility have made this a rapidly evolving area of law. These developments make it important for businesses to assess the accessibility of their websites, applications, and other digital platforms and to seek guidance concerning new developments in the law. 
Catalyst Program for Start-ups
Entrepreneurs turn to our Catalyst Program to get an idea off the ground, access funding sources, address basic legal requirements for running a business, and more. We welcome clients with creative ideas and disruptive new technologies. We tailor our legal services and advice according to your particular vision and near term objectives. Our Catalyst team members are experienced business advisers who know the challenges and triumphs that lie ahead of you, and how to prepare for them.
Jon Gelchinsky and Matt Stein discuss the importance of having trademark paperwork in order, because undoing the damage of not doing so can be costly.
Andrea Suter and Matt Stein share a cautionary tale of a company receiving less value in its acquisition due to unclear IP agreements.
Click here to learn more about how our Catalyst program can help your start-up or emerging business.