Pierce Atwood 2022 Pro Bono & Community Service Overview
Since Pierce Atwood's founding more than 13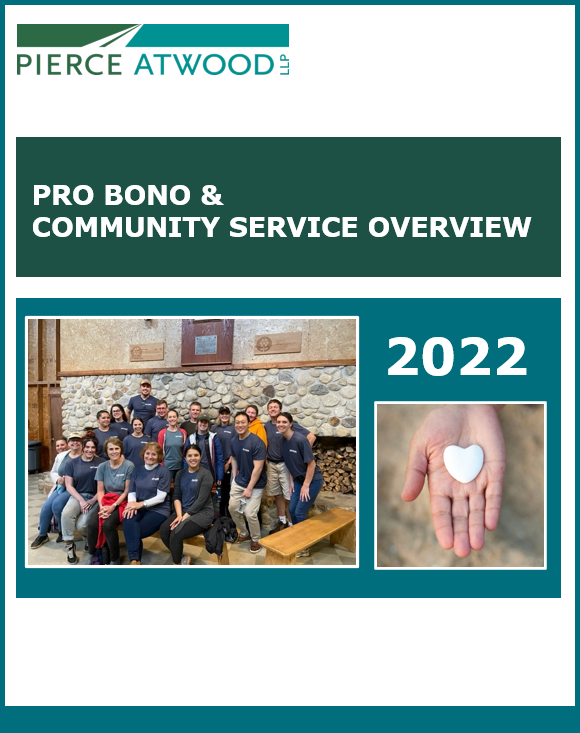 0 years ago, an ethic of public service has been a vital part of our culture. Attorneys and staff continue that tradition with energy and commitment, and we are pleased to share highlights of our recent accomplishments in our 2022 Pro Bono & Community Service Overview.
We are keenly aware that many in our communities face challenges and disadvantages. Through a broad and varied range of pro bono and community service efforts, our attorneys and staff work to help those in need.
From our position of privilege, we put our professional skills to work to help those who face obstacles gain access to and navigate the legal system. In 2022, for example, we assisted asylum-seekers navigate a slow and splintered bureaucracy, vulnerable children whose parental rights were contested, and individuals whose ability to expunge old criminal records removed a longstanding barrier to housing and professional employment.
Our attorneys and staff also contribute to the communities in which we live and work through nonprofit and charitable organizations that share our commitment to making a difference – from peer counseling for grieving children, to financial literacy training for middle school students, raising money to provide nutritious meals to at-risk students, and to help Ukrainian refugees. 
The time and efforts dedicated to this work are substantial, but the rewards and satisfaction are far greater. We hope you will take a few moments to share in our accomplishments of the past year.