Overtime Rules One Step Closer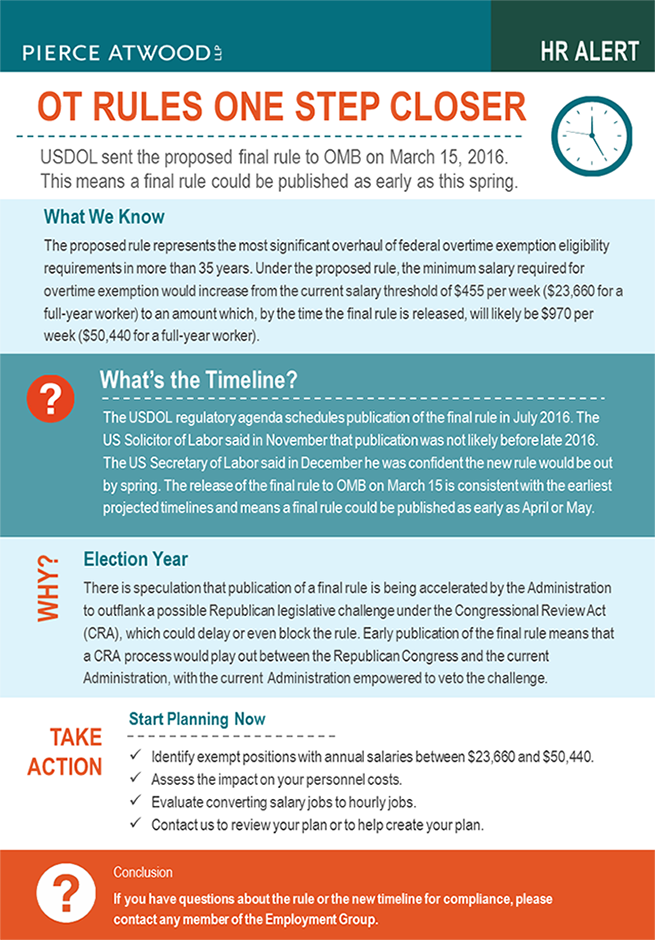 OT Rules One Step Closer
USDOL sent the proposed final rule to OMB on March 15, 2016. This means a final rule could be published as early as this spring.
What We Know
The proposed rule represents the most significant overhaul of federal overtime exemption eligibility requirements in more than 35 years. Under the proposed rule, the minimum salary required for overtime exemption would increase from the current salary threshold of $455 per week ($23,660 for a full-year worker) to an amount which, by the time the final rule is released, will likely be $970 per week ($50,440 for a full-year worker).
What's the Timeline?
The USDOL regulatory agenda schedules publication of the final rule in July 2016. The US Solicitor of Labor said in November that publication was not likely before late 2016. The US Secretary of Labor said in December he was confident the new rule would be out by spring. The release of the final rule to OMB on March 15 is consistent with the earliest projected timelines and means a final rule could be published as early as April or May.
Election Year
There is speculation that publication of a final rule is being accelerated by the Administration to outflank a possible Republican legislative challenge under the Congressional Review Act (CRA), which could delay or even block the rule. Early publication of the final rule means that a CRA process would play out between the Republican Congress and the current Administration, with the current Administration empowered to veto the challenge.
Start Planning Now
Identify exempt positions with annual salaries between $23,660 and $50,440.

Assess the impact on your personnel costs.

Evaluate converting salary jobs to hourly jobs.

Contact us to review your plan or to help create your plan.