Last Minute Relief From New Persuader Rule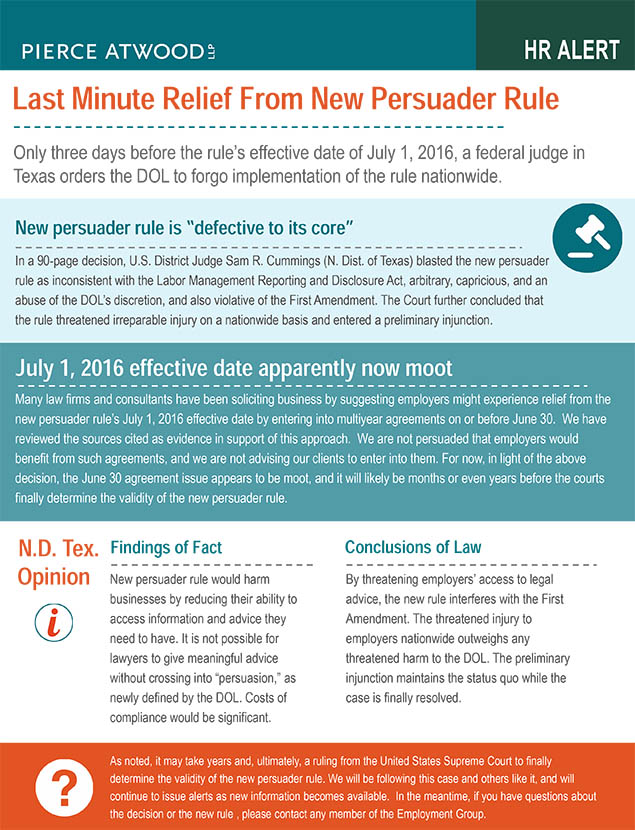 Last Minute Relief From New Persuader Rule
Only three days before the rule's effective date of July 1, 2016, a federal judge in Texas orders the DOL to forgo implementation of the rule nationwide.
New persuader rule is "defective to its core"
In a 90-page decision, U.S. District Judge Sam R. Cummings (N. Dist. of Texas) blasted the new persuader rule as inconsistent with the Labor Management Reporting and Disclosure Act, arbitrary, capricious, and an abuse of the DOL's discretion, and also violative of the First Amendment. The Court further concluded that the rule threatened irreparable injury on a nationwide basis and entered a preliminary injunction.
July 1, 2016 effective date apparently now moot
Many law firms and consultants have been soliciting business by suggesting employers might experience relief from the new persuader rule's July 1, 2016 effective date by entering into multiyear agreements on or before June 30. We have reviewed the sources cited as evidence in support of this approach. We are not persuaded that employers would benefit from such agreements, and we are not advising our clients to enter into them. For now, in light of the above decision, the June 30 agreement issue appears to be moot, and it will likely be months or even years before the courts finally determine the validity of the new persuader rule.
Findings of Fact
New persuader rule would harm businesses by reducing their ability to access information and advice they need to have. It is not possible for lawyers to give meaningful advice without crossing into "persuasion," as newly defined by the DOL. Costs of compliance would be significant.
Conclusions of Law
By threatening employers' access to legal advice, the new rule interferes with the First Amendment. The threatened injury to employers nationwide outweighs any threatened harm to the DOL. The preliminary injunction maintains the status quo while the case is finally resolved.