Pierce Atwood Partner and MENADO Board Chair Chris Howard Introduces US/Iceland Ambassadors at Maine Reception
Portland, Maine – March 17, 2015 – Pierce Atwood partner Christopher Howard introduced The Honorable Robert Barber, United States Ambassador to Iceland, and His Excellency Geir Haarde, Iceland's Ambassador to the United States at a private reception in Portland today. They are visiting Maine to explore various partnerships and learn more about redevelopment projects similar to those currently underway in Iceland.
The reception was organized by Maine North Atlantic Development Office (MENADO), New England Ocean Cluster House, and partners.  During the event, Thor Sigfusson, founder of Iceland's Ocean Cluster and Patrick Arnold, Maine entrepreneur and President of SoliDG, Inc. unveiled the conceptual design for the New England Ocean Cluster House, which is under negotiation with the city of Portland to be located at the Portland Ocean Terminal building on the Maine State Pier.
"MENADO has been working diligently to increase trade and investment opportunities between Maine and the Nordic region, and to help develop Maine's policies surrounding Arctic affairs," stated Chris Howard, adding, "The New England Ocean Cluster House is one example of the types of opportunities MENADO would like to bring to the state. The ocean cluster model has generated positive results, including economic growth in other countries, and the New England Ocean Cluster will follow suit, empowering people from our region to grow their ideas into profitable businesses that create new jobs and stimulate our economy. It's great that we have the support of the U.S. and Icelandic Ambassadors in building momentum around and celebrating this positive initiative."
As part of its commitment to fostering growth opportunities for new Maine businesses, Pierce Atwood is proud to serve as attorneys for the New England Ocean Cluster House, a place for entrepreneurs to come together, collaborate, and develop their businesses, all of which are focused on the commercialization of new ocean-related products.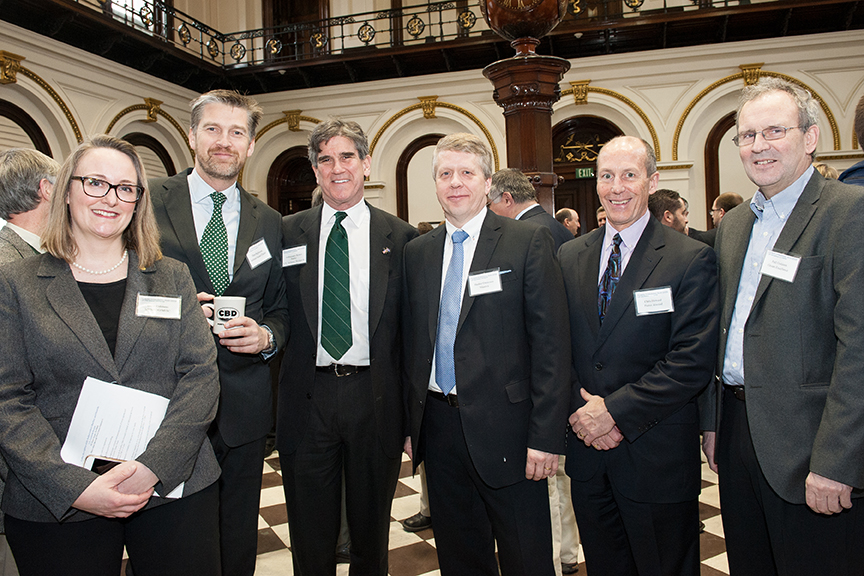 Left to right:

Dana Eidsness, Director, Maine North Atlantic Development Office;  Thor Sigfusson, PhD, President, Iceland Ocean Cluster; Ron Barber, U.S. Ambassador; Haukur Óskarsson, Managing Director Oil & Gas, Mannvit and Vice Chairman Sikuki Nuuk Harbor Project, Greenland; Chris Howard, partner, Pierce Atwood LLP; Páll Gíslason, CEO, Ocean Excellence