10/20/2016
Pierce Atwood Boston Office Holds Pro Bono Fair
As part of the firm's ongoing efforts to promote pro bono and community service work, Pierce Atwood's Boston office was pleased to host an array of area organizations who shared information about their work and the opportunities for attorneys to provide their clients with much-needed legal assistance.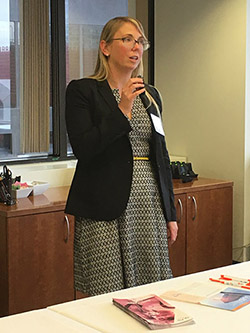 Participants included:
Conservation Law Foundation/Legal Food Hub
GLAD
JRI Health Law Institute
Lawyers Clearinghouse
Lawyers Committee for Civil Rights and Economic Justice
Political Asylum/Immigration Representation Project (PAIR)
Veterans Legal Services
Volunteer Lawyers for the Arts
Volunteer Lawyers Project
Women's Bar Association
Pro bono and community service are key components of Pierce Atwood's culture and tradition. We are proud that attorneys and staff continue to honor that tradition by embracing our collective responsibility to reach out to those who need our assistance.
To view more photos from last night's Boston Pro Bono Fair, please visit the firm's Facebook page. To read more about the firm's pro bono and community service work, please visit our Pro Bono & Community Service Overview.