NH Jury Awards Former Walmart Pharmacist $31 Million in Discrimination Case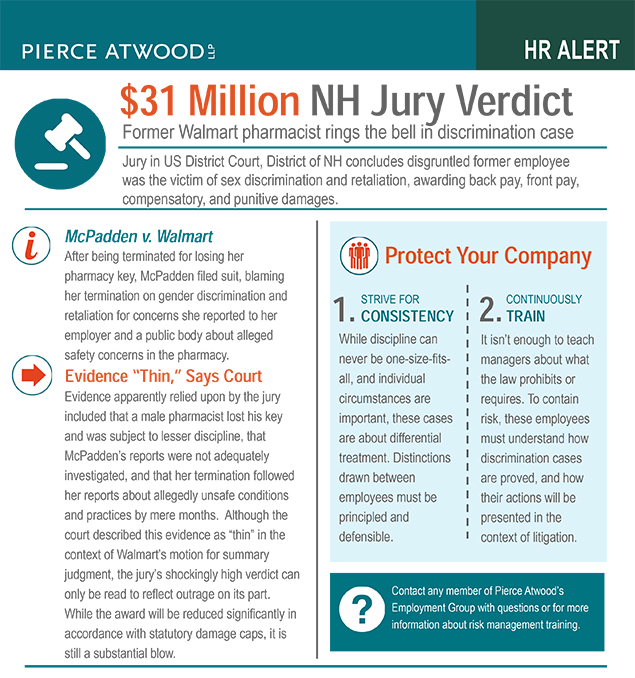 $31 Million NH Jury Verdict: Former Walmart pharmacist rings the bell in discrimination case
Jury in US District Court, District of NH concludes disgruntled former employee was the victim of sex discrimination and retaliation, awarding back pay, front pay, compensatory, and punitive damages.
McPadden v. Walmart
After being terminated for losing her pharmacy key, McPadden filed suit, blaming her termination on gender discrimination and retaliation for concerns she reported to her employer and a public body about alleged safety concerns in the pharmacy.
Evidence "Thin"," Says Court
Evidence apparently relied upon by the jury included that a male pharmacist lost his key and was subject to lesser discipline, that McPadden's reports were not adequately investigated, and that her termination followed her reports about allegedly unsafe conditions and practices by mere months.  Although the court described this evidence as "thin" in the context of Walmart's motion for summary judgment, the jury's shockingly high verdict can only be read to reflect outrage on its part.  While the award will be reduced significantly in accordance with statutory damage caps, it is still a substantial blow.
Protect Your Company
1. Strive for consistency
While discipline can never be one-size-fits-all, and individual circumstances are important, these cases are about differential treatment. Distinctions drawn between employees must be principled and defensible.
2. Continuously train
It isn't enough to teach managers about what the law prohibits or requires. To contain risk, these employees must understand how discrimination cases are proved, and how their actions will be presented in the context of litigation.