Special Permit to Enlarge Waterfront House Annulled: Don Pinto Quoted in Massachusetts Lawyers Weekly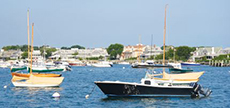 The owner/developer of a Nantucket cottage had received a special permit from the Nantucket Planning Board to convert the building into a larger commercial rental property. The Land Court, however, overturned that decision finding that the project would harm the neighborhood.


Representing an abutter to the property, Pierce Atwood Real Estate Partner Donald R. Pinto Jr. noted that local permit-granting authorities have broad discretion to issue special permits, "but if you have a case with the right set of facts, you can get a court to rule that no rational board could have [decided] a proposed project wasn't substantially more detrimental to the neighborhood."


Please click here to read the entire article and all of Don's comments.