Pierce Atwood Environmental Practice Group Continues to Receive Highest Recognition by Chambers and Partners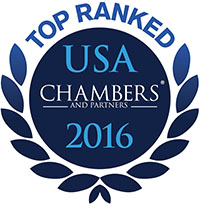 Called by Chambers sources as "The hands-down gold standard for environmental representation in Maine," Pierce Atwood's Environmental Practice Group remains the only law firm in Maine with a Band 1 ranking, the highest Chambers ranking available. Pierce Atwood has more #1 ranked environmental attorneys than any other law firm in New England, and has been the only law firm in Maine to be ranked #1 since Chambers and Partners began recognizing the Environmental practice area in 2005.
KEY INDIVIDUALS RECOGNIZED BY CHAMBERS
The "excellent" Thomas Doyle has a well-respected practice, with notable strength in solid waste regulation matters and land use affairs. Doyle is also noted for his expertise in energy utility licensing issues. Sources reserve particular praise for his diligent approach.  Kenneth Gray is a renowned environmental practitioner and an excellent choice of counsel on regulatory compliance issues, liability disputes and cleanup matters.
The "very knowledgeable" Matthew Manahan has been highlighted for his experience in dealing with hydropower matters, ranging from compliance issues to licensing and project development. Matt is also noted for his strength in environmental litigation.
Dixon Pike's practice encompasses a range of issues, such as permitting processes, enforcement and compliance matters. He is particularly noted for his expertise in air regulation concerns including pollution and toxic reduction, with one client asserting: "I don't know anyone with a better command of air regulation than Dixon Pike."
William Taylor has broad-ranging expertise across a wide array of environment issues, and comes particularly recommended for his work on sophisticated water-related affairs, including waste discharge, wetlands and regulatory compliance.
Brian Rayback is "knowledgeable, experienced, very focused, and personable and direct in his communication," reports one impressed client. His strengths include advising on land use, natural resource and permitting issues as well as water discharge matters.
Michelle O'Brien, a Massachusetts-based member of the Environmental Practice Group, evokes praise as a "very strong environmental litigator." She offers expertise in land use, contamination and hazardous waste disputes.