11/18/2015
Pierce Atwood Announces David Barry as the Firm's New Managing Partner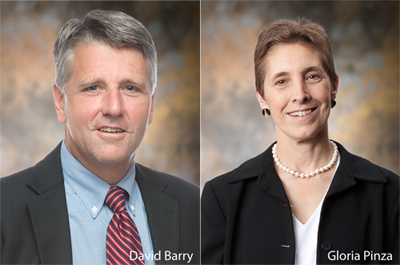 Pierce Atwood LLP today announced that Gloria A. Pinza will be stepping down as managing partner at the end of 2015 and will be succeeded by David E. Barry, who served until recently as Chair of the firm's Litigation Practice Group. Gloria will continue as a partner in the firm.
"I've been honored to be the managing partner of Pierce Atwood for seven years and am very proud of what we've accomplished during that period," Gloria said. "I'm also extremely pleased to be able to turn the reins over to Dave. Dave is exceptionally skilled as both a lawyer and a leader and has the respect and trust of our clients and everyone at Pierce Atwood. He understands who we are and what we aspire to be and, most importantly, what our clients need and expect."
A seasoned litigator with almost 30 years of experience, Dave has established himself as a leader in his roles as Chair of the firm's Litigation Practice Group and a member of Pierce Atwood's Management Committee. In those roles, he has worked closely with Gloria and other firm leaders to establish the firm's vision, priorities and goals and to ensure the firm attains those goals in a challenging and evolving business environment.
Since taking over as managing partner in 2009, Gloria has strategically and successfully guided Pierce Atwood through some of the most significant changes in firm history.
Under her watch, Pierce Atwood's Boston office has grown to 33 attorneys to serve the firm's growing base of regional, national, and international clients, and in 2009, she managed the launch of the firm's Providence, RI office.
In 2011 Gloria led a highly publicized and successful relocation of the firm's office in Portland, Maine, to the Portland waterfront. That same year she led the firm's rebranding effort, which included a new web and social media presence, enhancing communication with clients.
Most recently, Gloria has led the firm in a broad-based strategic planning initiative designed to assure that the firm remains top of class and fully responsive to client needs in the 21st century.
Dave Barry is committed to continuing Pierce Atwood's tradition of quality, service and value while embracing the fast-paced changes in the legal marketplace. "We want to provide superior legal counsel to our clients with an approach that is innovative, highly practical, and business oriented," Dave said. "The advances the firm has made under Gloria's leadership have positioned us well, not only to meet our clients' needs and expectations but to anticipate them. I'm looking forward to building on that legacy."