Pierce Atwood 2020 Pro Bono & Community Service Overview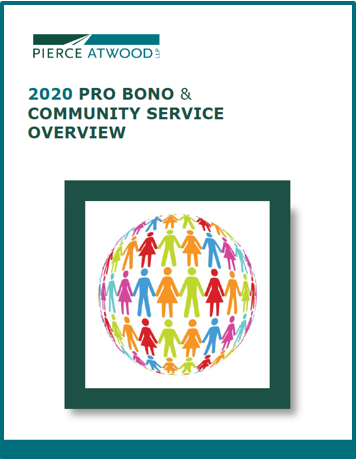 Pierce Atwood is pleased to share highlights of its 2020 pro bono and community service efforts in our annual Pro Bono & Community Service Overview.
2020 was a year like no other. As individuals and as a firm, we confronted the COVID-19 pandemic as well as the issues of racial and social injustice and inequity that shook our nation and the communities in which we live and work.
And while those immense challenges were front and center, we continued and even enhanced our effort and focus on many fronts. Throughout this extraordinary year, Pierce Atwood attorneys and staff stepped forward to meet these challenges with creativity, determination, and a commitment to make a difference.
An ethic of public and community service has long been deeply rooted in Pierce Atwood's history and culture. Our attorneys and staff continue to honor this tradition by giving back to those in need through a broad and varied range of pro bono and community service commitments.
The barriers between so many in our communities and access to the legal system were never more clear and stark than in 2020. We are privileged to put our abilities to use to assist those in need in gaining access to justice. We embrace the opportunity and responsibility to support nonprofit and charitable organizations that do important work in our communities and beyond.
We invite you to take a moment to review our 2020 Pro Bono & Community Service Overview and share in our work and accomplishments.