Pierce Atwood's Washington, DC Office is on the Move
Pierce Atwood's Washington, D.C. office is moving just around the corner, but to space large enough to accommodate our growing roster of legal talent and our expanding client base.
Our Energy practice, which has been on the ground in DC for many years, includes seasoned, experienced attorneys with extensive knowledge of Federal Energy Regulatory Commission (FERC) regulations and practices. Energy industry clients have long relied on Pierce Atwood for help navigating a range of complex regulatory agencies, including FERC, Department of Energy (DOE), the Commodity Futures Trading Commission (CFTC), and others.
By expanding our physical space, our attorneys with SEC and CFTC expertise will now be able to work side-by-side with our DC-based FERC experts, further enhancing the teamwork, collaboration, and client service that have helped make Pierce Atwood a strong regional law firm.
We are also pleased to make room for our White Collar and Securities Litigation attorneys who will be spending more time in DC, furthering their ability to interact effectively with SEC and FINRA regulators.
Randall Rich, energy partner and partner-in-charge of the DC office, states, "now that we're moving to larger space, we look forward to enhancing and complementing our well-established representation of power traders, public utilities, and natural gas and oil producers, shippers, pipelines, and end-users."
Pierce Atwood managing partner David Barry adds, "This move is a key component of our growth strategy. It allows us to enhance our energy and regulatory expertise and address our clients' needs across regulatory jurisdictions and practice groups. We will continue to develop new and better ways to serve our clients more effectively and efficiently."
Beginning May 1, 2016, here's where you can find us: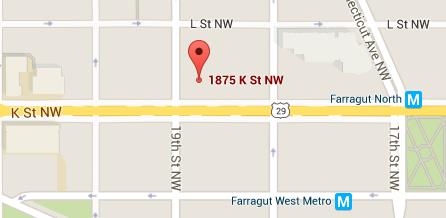 1875 K Street NW

Suite 700

Washington, DC 20006

202.530.6420