National Law Journal Names Pierce Atwood Partners Julia Weller and Ruta Skucas Energy and Environmental Trailblazers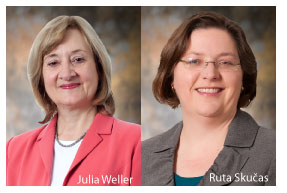 WASHINGTON, May 1, 2015 – Julia Weller and Ruta Skucas, partners in Pierce Atwood's Energy Practice Group, have been recognized in the inaugural edition of National Law Journal's "Energy & Environmental Trailblazers." This stand-alone magazine is, according to its publisher, "a special publication paying tribute to some of the great minds impacting the crucial intersection of energy production and the environment."
As legal advisor to then-FERC commissioner Cheryl LaFleur, Ruta Skucas was a true trailblazer in her work involving Order 1000. This rule reformed the Commission's electric transmission planning and cost allocation requirements for public utility transmission providers. According to Ruta, the idea behind this rule was, "to require utilities to plan alongside their neighbors." It was, she added, "an industry-changing regulation." Ruta came to Pierce Atwood in 2013 and has expanded her practice to assist market participants in becoming more of a voice in the process.
Julia Weller has blazed a trail from Albania to Ukraine on a wide range of issues related to investment in, and regulation of, energy infrastructures. She has drafted new laws, amendments, and regulations on behalf of USAID, the World Bank, and other agencies, "to build a legal and regulatory framework that will attract private investment." Weller notes that in 1989, Chisinau, the capital of Moldova "didn't have enough electricity to keep the streetlights on. Now it's a modern European city. Electricity has made a huge difference."
At Pierce Atwood, Ruta Skucas counsels firm clients on energy issues, focusing primarily on electric and natural gas matters, before the Federal Energy Regulatory Commission (FERC), state and federal entities, including federal courts and state public utility commissions. Her clients range from financial institutions and power marketers to traditional utilities. Julia Weller currently focuses her practice on promoting investment in clean energy and energy efficiency projects to reduce greenhouse gas emissions in the Commonwealth of Independent States and the countries of Southeast Europe.